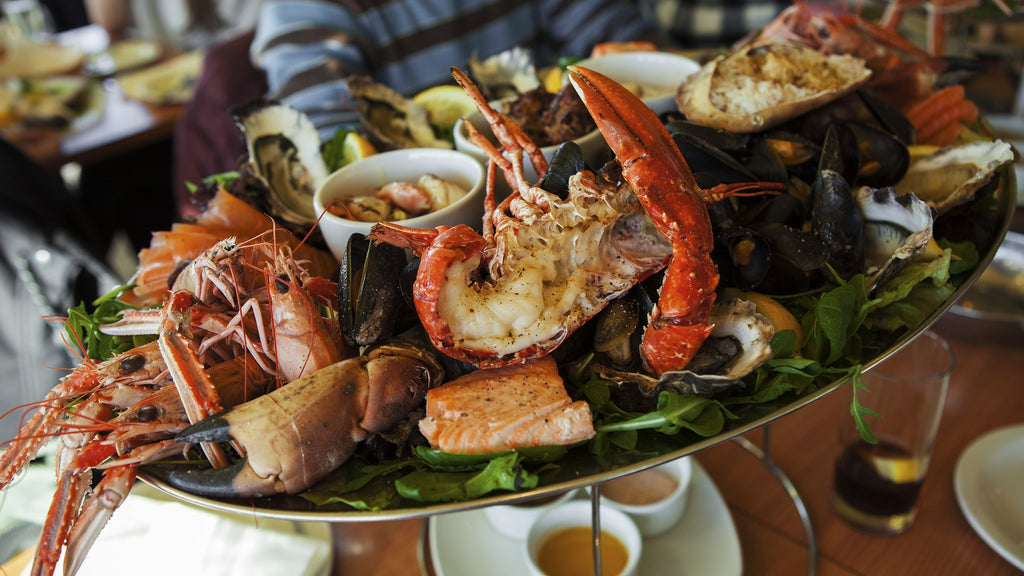 Looking to impress at your next event or family function?  Nothing makes a statement like a customized seafood platter.  Our seafood platters are not only visually stunning,  they are absolutely delicious.  Featuring fully cooked, ready-to-eat, top-quality seafood arranged with care on a bed of crisp green leaf lettuce and paired with divine dips and sauces to complement.  Seafood platters are always the hit of the party and once offered out don't usually stick around too long.  Read on for more delicious details.  
Key components of a seafood platter
"Variety is the very spice of life that gives it all its flavor". This holds more than true here.  Fill your platter with decadent items like Black Tiger Shrimp, Lobster, Crab, and Smoked Fish all available in a multitude of varieties and sizes.   Make it your own and customize these in any combination to make a platter that fits your exact needs and budget.  Enhance your platter even further with our delicious house-made dips and create something truly memorable for your next get together 
Has your mouth started watering yet? Let's take a look at some of the mouth-watering options for your custom seafood platter.
Cocktail Shrimp-  This is the foundation for any good seafood platter, I mean, who doesn't like shrimp??  When it comes to selecting your shrimp it is important to consider what you are going for on the platter.   If you plan to include items like crab and lobster you would likely want to go with a larger black tiger shrimp.  Or If you are feeding a large crowd at a fundraiser or business luncheon you may consider a more modest-sized White Pacific Shrimp that will satisfy your crowd without blowing your budget.  At Caudle's,  we have it all!   
Crab -  Imitation Crab or "Surimi" is a great item to add to your platter.  Although it is not "real crab" it is far from "fake" Our surimi is made in the USA with only the finest wild-caught Alaskan Pollock flavored with real crab extract. This results in a very tasty product that is an economical way to fill your platter and satisfy your guests.  
Snow Crab Cocktail Claws are one of the most impressive things that you can add to your seafood platter.  These Canadian crab claws are fully cooked and pre-cut to expose the tender meat.  Just perfect for your guest to grab and dip in our tangy cocktail sauce or melted butter.  
As impressive as that is, you can still take it to the next level with Jumbo Red King Crab Legs!  Giant cooked Bering Sea King Crab Legs split right down the middle to expose the divine meat inside. Providing your guests with an unforgettable seafood experience. 
Lobster -  Choose fully cooked and shelled lobster claw and tail meat cut into bite-sized pieces ready for dipping!  Or if you're really looking to wow your guests,  go for the whole split Cooked Lobster with pre-cracked claws ready for easy enjoyment.
Smoked Fish:  Smoked fish is considered a delicacy in many cultures and adds a great contrast to any seafood platter.  Smoked Salmon and Trout are the most common and are available in a wide variety of both hot and cold smoked options.  Or go more exotic and try some mackerel or eel fillets.  Can't decide?  Get it all together with our house-made smoked trout dip on our awesome Smoked Fish Sampler Platter.
Build your own Seafood Tower!
Our platters are excellent but due to the challenges of transport and the nature of some seafood, there are some items that just can't be put on one of our seafood platters.   Don't let this stop you, unleash your creativity and build your own seafood tower!   Usually found in only the highest-end restaurants the seafood tower is a truly stunning statement that really takes your event to the next level. 
Oysters / Bivalves:

  Caudle's has one of the finest selections of

shellfish

in all of Canada boasting 8-10 varieties of live oysters at any given time.  Fresh-shucked oysters are the cornerstone of a seafood tower.  In our opinion,  one of the tiers should be dedicated to

fresh shucked oysters

.  Another great option is the New Zealand Greenshell Mussel.  These jumbo-sized mussels are available for purchase fully cooked and on the half shell and when placed alongside the oysters it gives a great visual contrast as well as an option for those guests not too keen on eating raw seafood
Shrimp: 

Cooked cocktail shrimp

are almost a must on a tower.  We suggest less shrimp but more size for that stunning presentation you're after.  Go for a 16-20 count size black tiger shrimp or larger.   Feel free to get creative here,  use head-on shrimp or

shrimp tails

with the shell on.  Towers are usually served with utensils for cracking and opening seafood so go for that wow factor and use items not seen every day. 
Caviar:

 When you really want to make a statement nothing says bougie like high-quality

caviar

.  Sturgeon is our highest-end offering.  Though there are many good options;  Salmon, Trout, or Herring look and taste great as well.
Crab / Lobster:

  One of these or both are highly recommended for your tower.   Serve up some chilled split lobster tails or a pile of sectioned king crab legs.   Or throw some snow crab clusters or even a whole dungeness crab on there.  Serving them with the shells on is encouraged!
Garnish:

Garnish not only makes your tower appear luscious and lip-smacking but also adds a rich taste to the platter. Add in some fresh leaf lettuce to give the tray a pop of color. Embellish it further with lemon and lime wedges, parsley, chives, and fresh dill.   
Dressings/ Sauces:

A variety of colorful and flavorful sauces and condiments will complete the tower.  Tangy cocktail sauce,

mignonette sauce

,

horseradish

,

aioli

, and hot sauce are all highly recommended.
Other Options:

There really are no limits to what you put on your tower.  Try some tuna tartar, sashimi salmon, ceviche scallops, or grilled and chilled squid or octopus!  With hundreds of seafood options, you are really only limited by your imagination.  Let Caudle's help your seafood dreams come true!  
What seafood presentation is right for you?
There is much to consider when ordering your seafood platter;  the nature of your event, the size of your group, your budget, and of course your seafood preferences.  It all can be a bit overwhelming especially if you are a novice when it comes to seafood.  Let Caudle's take care of you. We have a team of seafood experts ready to assist you with deciding your seafood selections, portion sizes, and serving suggestions.  Put our over 250 years of combined seafood experience to work for you and have seafood success at your next event!