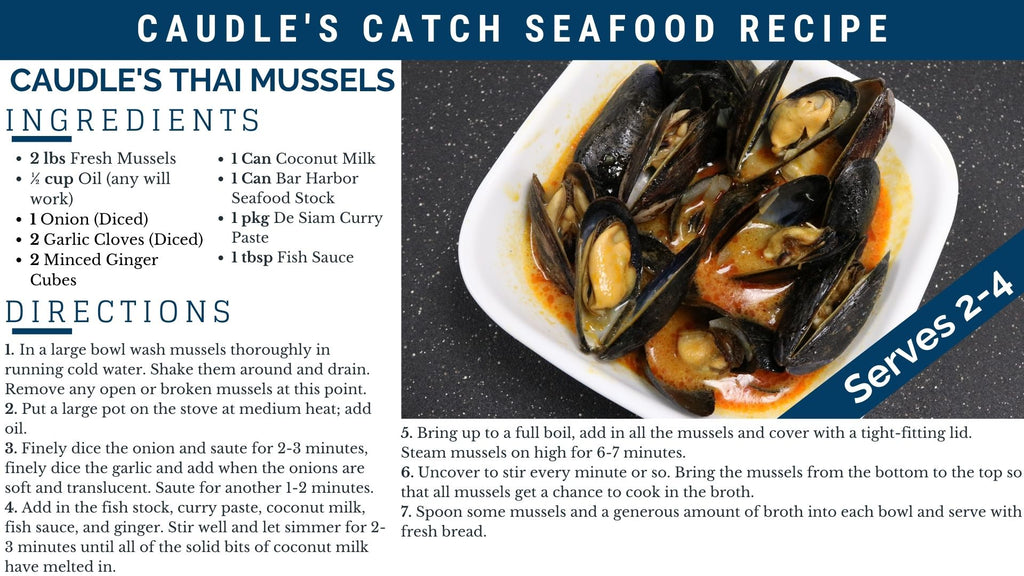 INGREDIENTS
2 lbs

 

Fresh P.E.I. Mussels

½ cup

Oil (any will work)

1

Onion (Diced)

2

Garlic Cloves (Diced)

2

Minced Ginger Cubes

1 Can

Coconut Milk

1 Can

Bar Harbor Seafood Stock

1 pkg

De Siam Curry Paste

1 tbsp

Fish Sauce
DIRECTIONS
In a large bowl wash mussels thoroughly in running cold water. Shake them around and drain. Remove any open or broken mussels at this point.

Put a large pot on the stove at medium heat; add oil.

Finely dice the onion and saute for 2-3 minutes, finely dice the garlic and add when the onions are soft and translucent. Saute for another 1-2 minutes.

Add in the fish stock, curry paste, coconut milk, fish sauce, and ginger. Stir well and let simmer for 2-3 minutes until all of the solid bits of coconut milk have melted in.

Bring up to a full boil, add in all the mussels and cover with a tight-fitting lid. Steam mussels on high for 6-7 minutes.

Uncover to stir every minute or so. Bring the mussels from the bottom to the top so that all mussels get a chance to cook in the broth.

Spoon some mussels and a generous amount of broth into each bowl and serve with fresh bread.