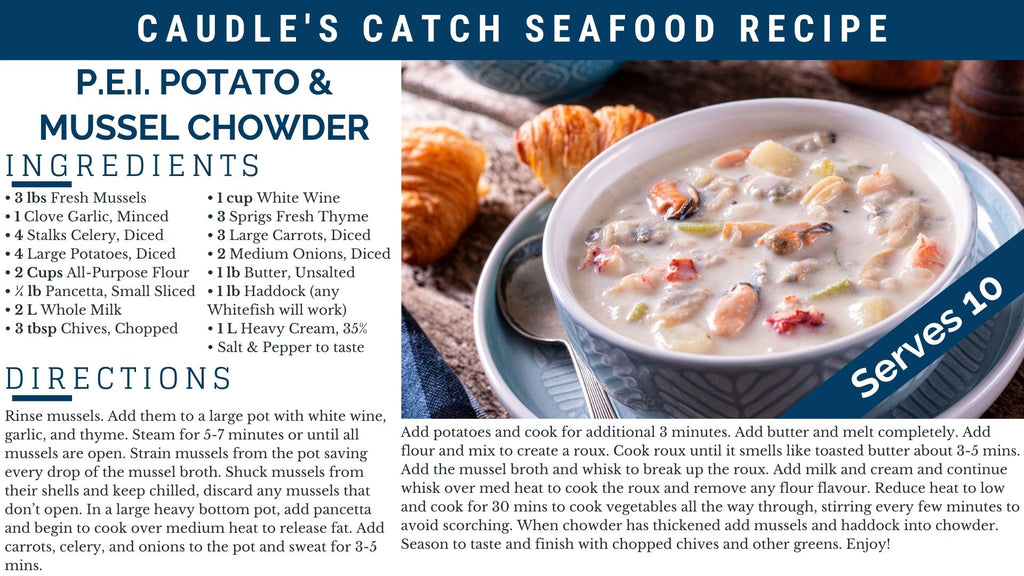 INGREDIENTS
3 lbs

 

Fresh P.E.I. Mussels
1 Clove Garlic, Minced
4

 

Stalks Celery, Diced
4

 

Large Potatoes, Diced
2 cups

 

All-Purpose Flour

¼ lb

 

Pancetta, Small Sliced
2 L Whole Milk
3 tbsp Chives, Chopped
1 Cup White Wine
3 Sprigs Fresh Thyme
3 Large Carrots, Diced
2 Medium Onions, Diced
1 lb Butter, Unsalted
1 lb Haddock (any whitefish will do)
1 L Heavy Cream, 35%
Salt & Pepper to Taste
DIRECTIONS
Rinse mussels

Add them to a large pot with white wine, garlic, and thyme.

Steam for 5-7 minutes or until all mussels are open.

Strain mussels from the pot saving every drop of the mussel broth.

Shuck mussels from their shells and keep chilled, discard any mussels that don't open.

In a large heavy bottom pot, add pancetta and begin to cook over medium heat to release fat.

Add carrots, celery, and onions to the pot and sweat for 3-5 mins.

Add potatoes and cook for additional 3 minutes.

Add butter and melt completely.

Add flour and mix to create a roux.

Cook roux until it smells like toasted butter about 3-5 mins.

Add the mussel broth and whisk to break up the roux.

Add milk and cream and continue whisk over med heat to cook the roux and remove any flour flavour.

Reduce heat to low and cook for 30 mins to cook vegetables all the way through, stirring every few minutes to avoid scorching.

When chowder has thickened add mussels and haddock into chowder. Season to taste and finish with chopped chives and other greens. Enjoy!