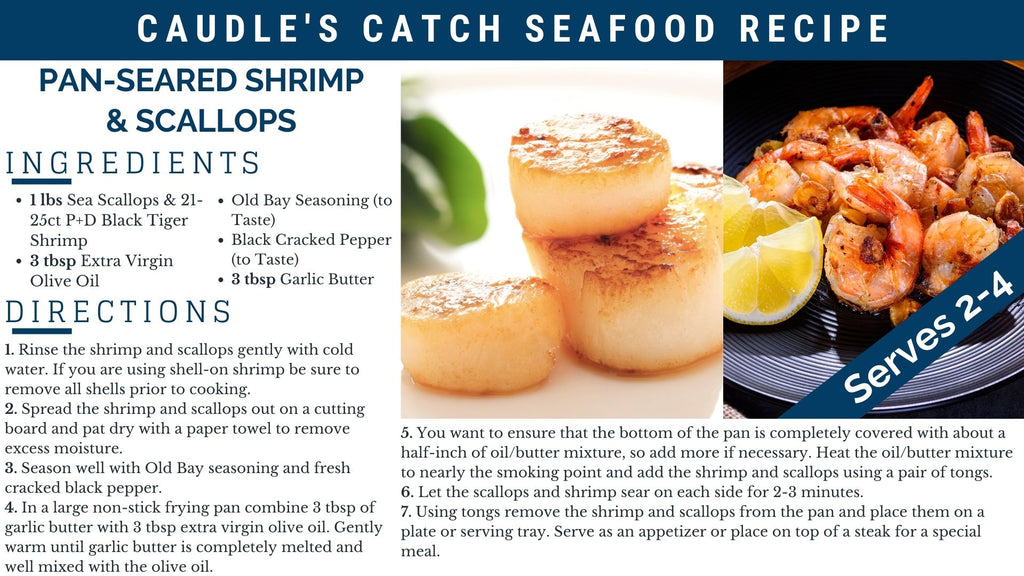 INGREDIENTS
1 lbs Sea Scallops & 21-25ct P+D Black Tiger Shrimp
3 tbsp Extra Virgin Olive Oil
3 tbsp Garlic Butter

Old Bay Seasoning (to Taste)

Black Cracked Pepper (to Taste)
DIRECTIONS
Rinse the shrimp and scallops gently with cold water. If you are using shell-on shrimp be sure to remove all shells prior to cooking.

Spread the shrimp and scallops out on a cutting board and pat dry with a paper towel to remove excess moisture.

Season well with Old Bay seasoning and fresh cracked black pepper.

In a large non-stick frying pan combine 3 tbsp of garlic butter with 3 tbsp extra virgin olive oil. Gently warm until garlic butter is completely melted and well mixed with the olive oil.

You want to ensure that the bottom of the pan is completely covered with about a half-inch of oil/butter mixture, so add more if necessary. Heat the oil/butter mixture to nearly the smoking point and add the shrimp and scallops using a pair of tongs.

Let the scallops and shrimp sear on each side for 2-3 minutes.

Using tongs remove the shrimp and scallops from the pan and place them on a plate or serving tray. Serve as an appetizer or place on top of a steak for a special meal.