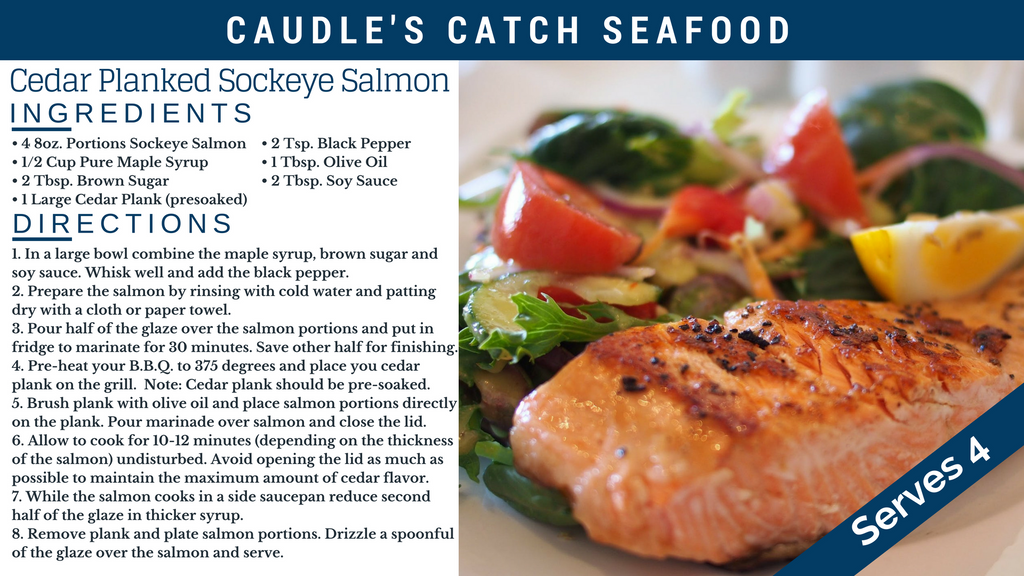 INGREDIENTS
4pc 8oz. Portions Sockeye Salmon
1/2 Cup Pure Maple Syrup
2 Tbsp. Brown Sugar
2 Tbsp. Soy Sauce
2 Tsp. Black Pepper
1 Tbsp. Olive Oil
1 Large Cedar Plank (presoaked)
DIRECTIONS
In a large bowl combine the maple syrup, brown sugar and soy sauce. Whisk well and add the black pepper.
Prepare the salmon by rinsing with cold water and patting dry with a cloth or paper towel.
Pour half of the glaze over the salmon portions and put in fridge to marinate for 30 minutes. Save other half for finishing.
Pre-heat your B.B.Q. to 375 degrees and place you cedar plank on the grill. Note: Cedar plank should be pre-soaked.
Brush plank with olive oil and place salmon portions directly on the plank. Pour marinade over salmon and close the lid.
Allow to cook for 10-12 minutes (depending on the thickness of the salmon) undisturbed. Avoid opening the lid as much as possible to maintain the maximum amount of cedar flavor.
While the salmon cooks in a side saucepan reduce second half of the glaze in thicker syrup.
Remove plank and plate salmon portions. Drizzle a spoonful of the glaze over the salmon and serve.