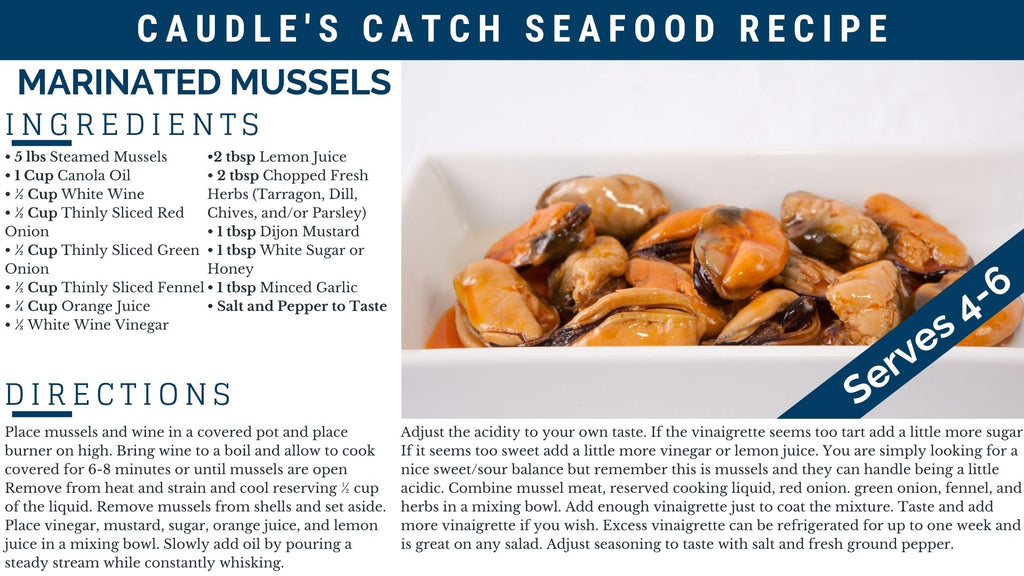 INGREDIENTS
5 lbs

 Steamed

 P.E.I. Mussels
1 Cup

 

Canola Oil (or other neutral tasting oil)

½ Cup

 

Thinly Sliced Red Onion

½ Cup

 Thinly Sliced Green Onion

½ Cup Thinly Sliced Fennel
⅓ Cup White Wine Vinegar
¼ Cup Orange Juice
2 tbsp Lemon Juice
2 tbsp Chopped fresh herbs (Tarragon, Dill, Chives, and/or Parsley)
1 tbsp Dijon Mustard
1 tbsp White Sugar or Honey
1 tbsp Minced Garlic
DIRECTIONS
Place mussels and wine in a covered pot and place burner on high. Bring wine to a boil and allow to cook covered for 6-8 minutes or until mussels open.
Remove from heat and strain and cool reserving ½ cup of the liquid. Remove mussels from shells and set aside.
Place vinegar, mustard, sugar, orange juice, and lemon juice in a mixing bowl. Slowly add oil by pouring in a steady stream while constantly whisking. Adjust the acidity to your own taste. If the vinaigrette seems too tart add a little more sugar. If it seems too sweet add a little more vinegar or lemon juice. You are simply looking for a nice sweet/sour balance but remember this is mussels and they can handle a little acidity.
Combine mussel meat, reserved cooking liquid, red onion, green onion, fennel, and herbs in a mixing bowl.
Add enough vinaigrette just to coat the mixture. Taste and add more vinaigrette if you wish. Excess vinaigrette can be refrigerated for up to one week and is great on any salad.
Add seasoning to taste with salt and black pepper.
Enjoy!