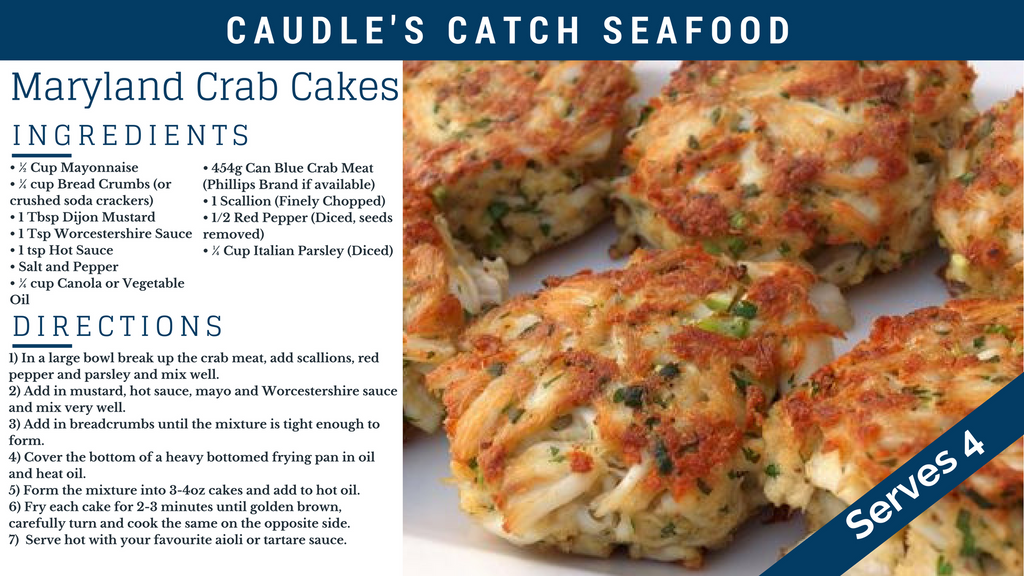 INGREDIENTS
• ½ Cup Mayonnaise
• ¼ cup Bread Crumbs (or crushed soda crackers)
• 1 Tbsp Dijon Mustard
• 1 Tsp Worcestershire Sauce
• 1 tsp Hot Sauce
• Salt and Pepper
• ¼ cup Canola or Vegetable Oil
• 454g Can Blue Crab Meat (Phillips Brand if available)
• 1 Scallion (Finely Chopped)
• 1/2 Red Pepper (Diced, seeds removed)
• ¼ Cup Italian Parsley (Diced)
DIRECTIONS
1) In a large bowl break up the crab meat, add scallions, red pepper and parsley and mix well.
2) Add in mustard, hot sauce, mayo and Worcestershire sauce and mix very well.
3) Add in breadcrumbs until the mixture is tight enough to form.
4) Cover the bottom of a heavy bottomed frying pan in oil and heat oil.
5) Form the mixture into 3-4oz cakes and add to hot oil.
6) Fry each cake for 2-3 minutes until golden brown, carefully turn and cook the same on the opposite side.
7) Serve hot with your favourite aioli or tartare sauce.