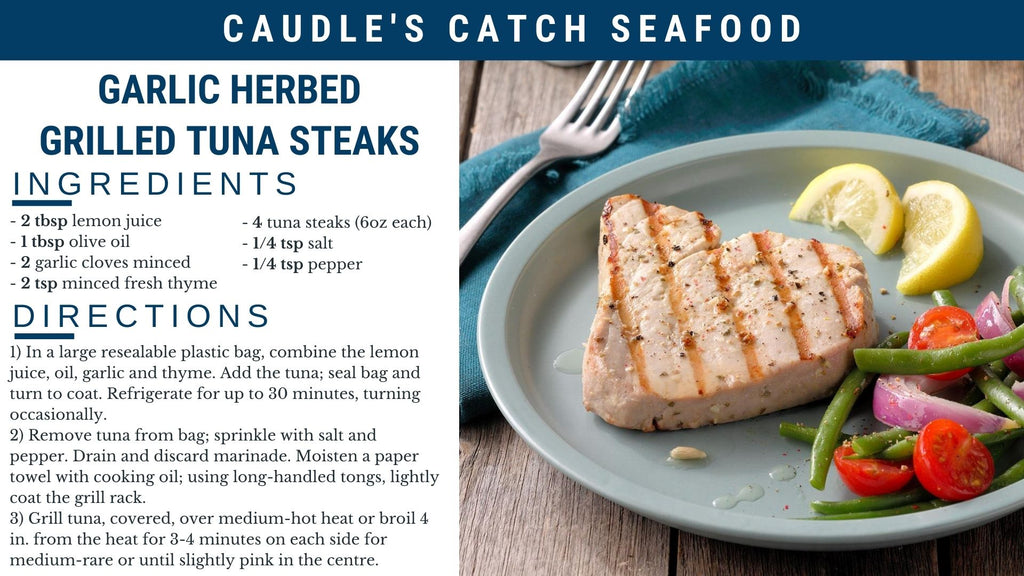 INGREDIENTS
2 tbsp

 Lemon Juice

1 tbsp

 Olive Oil

2

 Garlic Cloves Minced

2 tsp

 Minced Fresh Thyme

4

 Tuna Steaks (6oz each)

1/4 tsp

 Salt

1/4 tsp

 Pepper
DIRECTIONS
In a large resealable plastic bag, combine the lemon juice, oil, garlic and thyme. Add the tuna; seal bag and turn to coat. Refrigerate for up to 30 minutes, turning occasionally. 
Remove tuna from bag; sprinkle with salt and pepper. Drain and discard marinade. Moisten a paper towel with cooking oil; using long-handled tongs, lightly coat the grill rack.
Grill tuna, covered, over medium-hot heat or broil 4 in. from the heat for 3-4 minutes on each side for medium-rare or until slightly pink in the centre.