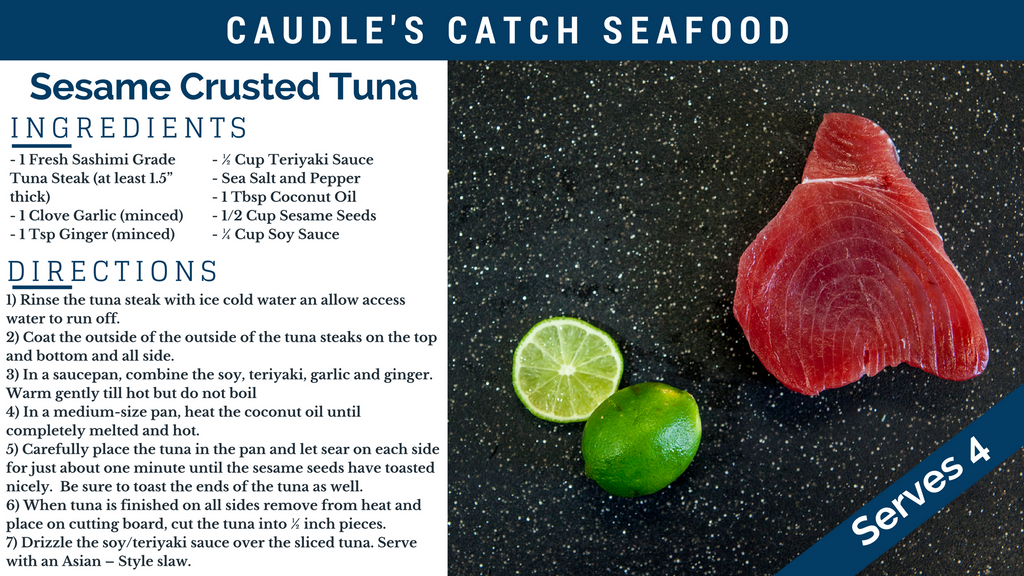 INGREDIENTS
1 Fresh Sashimi Grade Tuna Steak (at least 1.5" thick)
1 Clove Garlic (minced)
1 Tsp Ginger (minced)
½ Cup Teriyaki Sauce
Sea Salt and Pepper
1 Tbsp Coconut Oil
1/2 Cup Sesame Seeds
¼ Cup Soy Sauce
DIRECTIONS
1) Rinse the tuna steak with ice cold water an allow access water to run off.
2) Coat the outside of the outside of the tuna steaks on the top and bottom and all side.
3) In a saucepan, combine the soy, teriyaki, garlic and ginger. Warm gently till hot but do not boil
4) In a medium-size pan, heat the coconut oil until completely melted and hot.
5) Carefully place the tuna in the pan and let sear on each side for just about one minute until the sesame seeds have toasted nicely. Be sure to toast the ends of the tuna as well.
6) When tuna is finished on all sides remove from heat and place on cutting board, cut the tuna into ½ inch pieces.
7) Drizzle the soy/teriyaki sauce over the sliced tuna. Serve with an Asian – Style slaw.