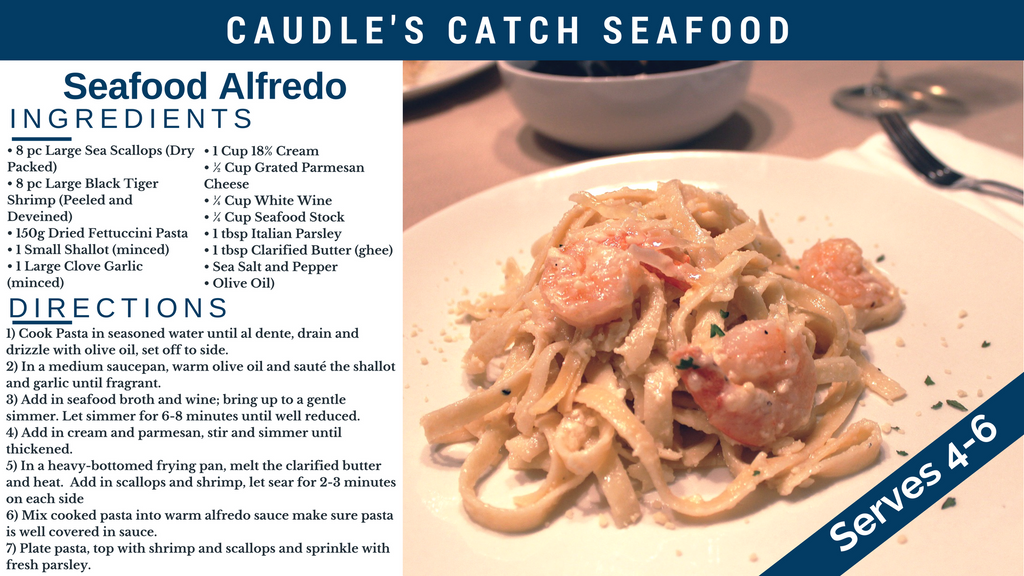 INGREDIENTS
• 8 pc Large Sea Scallops (Dry Packed)
• 8 pc Large Black Tiger Shrimp (Peeled and Deveined)
• 150g Dried Fettuccini Pasta
• 1 Small Shallot (minced)
• 1 Large Clove Garlic (minced)
• 1 Cup 18% Cream 
• ½ Cup Grated Parmesan Cheese
• ¼ Cup White Wine
• ¼ Cup Seafood Stock 
• 1 tbsp Italian Parsley
• 1 tbsp Clarified Butter (ghee)
• Sea Salt and Pepper
• Olive Oil
DIRECTIONS
1) Cook Pasta in seasoned water until al dente, drain and drizzle with olive oil, set off to side.
2) In a medium saucepan, warm olive oil and sauté the shallot and garlic until fragrant. 
3) Add in seafood broth and wine; bring up to a gentle simmer. Let simmer for 6-8 minutes until well reduced.  
4) Add in cream and parmesan, stir and simmer until thickened.  
5) In a heavy-bottomed frying pan, melt the clarified butter and heat.  Add in scallops and shrimp, let sear for 2-3 minutes on each side 
6) Mix cooked pasta into warm alfredo sauce make sure pasta is well covered in sauce.  
7) Plate pasta, top with shrimp and scallops and sprinkle with fresh parsley.